Paul Emus, M.A. Communications
Affordable services from a financially-independent professional, with experience and maturity.
Freelance
photography

videography

technical writing

editing

instructing

press releases
(Retired Army journalist, English teacher, County clerk)
---

Click on these links:
---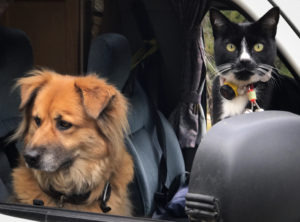 Happy campers, Caramel and Cookie, love to go on road trips.
Currently it's about "having too much fun."  I enjoy technical hardware and software to create artistic endeavors.  With freedom afforded by good health, three pensions, TRICARE, social security, and both mortgages paid off, I can just take on the occasional freelance job.  My self-contained Roadtrek RV allows for adventure with my radio-collared fur buddies.  We follow the weather, savouring satellite radio and good books and magazines, from our base in San Diego to the desert, mountains, and sea.
I swim laps for half-hour sessions with my waterproof headphones.  I hit the trails with my dog and fat-tire electric bike.  I eat superfoods, take supplements, and plan to live to 120 by avoiding processed foods, and certainly not smoking or drinking.  I socialize with the photo club, politics, and friends and family.  (My cousin says I won't get Alzheimers because of my good hand-eye coordination for flying a drone.)  Cheers!