Affordable services from a financially-independent professional, with experience and maturity.
Freelance
photography

videography

technical writing

editing

instructing

press releases
(Retired Army journalist, English teacher, County clerk)
---

Click on these links:
---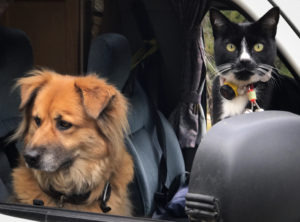 Happy campers, Caramel and Cookie, love to go on road trips.
Currently the occasional freelance job balances out a life of "having too much fun."  Technical hardware and software are enjoyed to create artistic endeavors.  Freedom is afforded by good health, three small pensions, TRICARE, social security, and both mortgages paid off.  A self-contained Roadtrek RV allows for adventure with radio-collared fur buddies.  From home in San Diego, road trips to the desert, mountains, and sea follow the weather, with satellite radio and good books and magazines.
Cheers!
Tap on these embedded videos, that will play in a moment after loading: