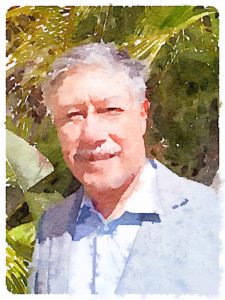 Paul Emus
Cellphone: (619) 990-7326; 
E-mail:  paulemus@sbcglobal.net or paul@paulemus.com
4365 Mt. Abernathy Ave., San Diego, CA 92117
and 1124 Oneonta Ave., Imperial Beach, CA 91932
Freelance photography, videography, technical writing, editing, instructing, press releases.  (Retired Army journalist, English teacher, County clerk)  Affordable services from a financially-independent professional with experience and maturity.  FAA Part 107 commercial drone certification.  Interactive Media Certificate Program, 25 hours per week for 36 weeks, graduate Jan. 2019.  Emus Communications current registered business in San Diego.  Please visit www.paulemus.com for details.
Account Clerk Specialist, County of San Diego, Auditor & Controller, Property Tax Services. Maintains property tax rolls of almost a million bills averaging $4,179 in over 4,000 Tax Rate Areas.  Apportions over $4 billion to over 340 agencies.  Previously accounts payable, labor corrections, administrative phones, reports, and correspondence.  Supervisor Eric Howard at (858) 945-4233.   8/01-1/16 (retired)
Substitute Teacher, for school districts:  Sweetwater, 10/91-4/01, and others, including Coronado, San Marcos, National, Santee, Jamul, San Diego City and County.  Lessons, multi-media presentations, assertive discipline, supervision, classroom management, problem solving under pressure, interpersonal contact, cultural diversity.
Professor/Instructor, National University, English writing skills, Communications Macromedia, Adjunct Faculty, 7/00-11/00.
Security Officer, night shift, Fairbanks Ranch, 12/00-3/01, Sterling, 7/99-7/00.
Journalist, 40th Div. Calif. Army National Guard, AFRC Los Alamitos. Magazine editor (PageMaker), film processing, speech writing, A/V, press conference support, media escort during emergencies, overseas deployments, training, surveys.  Previously, 302 Public Affairs Det., U.S. Army Reserve; 1st Psychological Operations Co., San Diego, newsletter on Light Print and Loudspeaker Teams; 69th Public Affairs Det., Sacramento; and 2/185th Armor, Ground Radar, Brawley. Secret Clearance.  (Monthly weekend)-6/99.
Graphics/Reports layout, BTG Inc. (Aerotek agency), using PageMaker 6.5. 7/97.
Student Teacher, Hilltop Junior High School, English-9th. 2/93-6/93. SDSU coursework of 18 units English and 24 units Education, 3.66 G.P.A.  6/92-12/93.
Instructional Writer, Science and Technology Corp., San Diego branch, R&D, Information, Army contract courseware using WordPerfect. 12/90-2/92.
Spares Analyst, Rohr Industries (now B.F.Goodrich), Chula Vista, Customer Support, IPC documentation of aircraft systems engineering.  8/89-10/90.
Publications Q.C. Checker, Continental Data Graphics, San Diego, computer coding for Boeing 737-767 blueprint disassembly sequences.  3/87-8/89 and 10/90-11/90.
Technical Writer, Jana Inc., Technical Publishers, San Diego. Revised Navy aircraft schematics, maintenance procedures, troubleshooting tables, and structural IPB isometrics from engineering drawings/notes to Mil-Spec style/format.  6/85-3/87.
Proposal Editor Specialist, Dalmo Victor, Bell Aerospace, Textron (later Singer), Belmont (Silicon Valley) on "must win" proposals for radar countermeasures. Managed editing schedules, illustrators, "red-team" reviews, visual aids, photography, biographies, style formats and classified documents.  Created "Proposal Times" and wrote for "Transponder" and "Matrix" newsletters; trade and local press.  6/83-1/85.
Staff Writer, Assoc. Desert Newspapers, Inc. on dailies Imperial Valley Press and The Brawley News. Achieved first-place CNPA award as Farm Editor of regular supplements.  Made extensive front-page coverage of agriculture, business, weather, public utility.  7/81-11/82.
Reporter, Editor, Columnist, Correspondent and Photographer for metro, student, and military newspapers and magazines Grizzly, Flaming Blade, Vista Sun, Meredith Corp., The South Bay Post, Triton Times, Weekly Journal, Daily Signal, Patriot, Daily Californian, Panorama, Independent-Journal, Arizona Farmer-Ranchman and others. Managing Editor, Beach Cities Newspapers Redondo Beach Record, Hermosa Beach Review, Manhattan Beach News, El Segundo Herald, and Marina del Rey Argonaut.  "Scooped" police beat, city council, in-depth interviews, hard-hitting election coverage, accurate overnight deadlines, colorful features, business and political columns. Increased efficiency of design and layout paste-up production.  (Various years)-present.
Electronics Technician, Alvaradio, Santa Monica. Built AWACS radar pulse transformers. 3/76-7/76.  Also, repaired nuclear-missile site computerized radar on 24-hour shifts. U.S. Army, Korea and Texas.  4/74-3/76.
EDUCATION: English Teacher Education, 42 units, San Diego State University, 12/93.  (Scored highly on Social Studies NTE, 11/92).
M.A., Communications, 36 units, Cal-State U., Fullerton, 8/81.  200-page thesis, "A History of American Press Clubs, 1850-1920."  Seminars on research, publications law, ethics, investigative public affairs reporting, and radio-TV newswriting. (G.I. Bill.)
Journalist Honor Graduate, Defense Information School, Indiana, 11/77.
2nd B.A., News Communications, 29.3 units, Cal-State U., Dominguez Hills, 6/77.
Electronics, Army Air Defense School, Texas, 40-weeks full-time, 3/74.
B.A., Philosophy, 128 units, Univ. of Calif., San Diego, Berkeley, and Riverside, 3/72.
VITA:  Eagle Scout; native Californian; lived in Europe and Asia; traveled in over 25 countries; conversational ability in German, Spanish and French. Toastmasters CTM, International Reading Assoc., National Council of Teachers of English, Greater San Diego Reading Assoc., Society for Technical Communication, National Management Assoc., Greater Los Angeles Press Club. Passed CBEST 12/90.  Photography and Multimedia equipment with Microsoft, Adobe, and Final Cut Pro programs.  More than 1,000 published articles in eight portfolios.  Other scientific, sales, and management experience.  Typing cert. 60 wpm; excellent health; non-smoker.